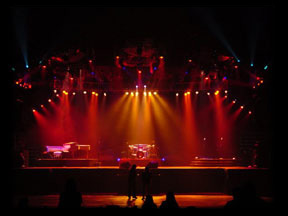 The Beach Boys
The most successful and important American band of the rock music era is without question The Beach Boys. They were formed in 1961 in Hawthorne, CA, around the three Wilson brothers: Brian (b. June 20, 1942) (bass, piano, vocals), Dennis (b. Dec. 4, 1944 - d. Dec. 28, 1983) (drums, vocals), and Carl (b. Dec. 21, 1946) (guitar, vocals). Additional members were Mike Love (b. Mar. 15, 1941) (vocals), the Wilsons' cousin, and Al Jardine (b. Sep. 3, 1942) (guitar, vocals). From the start, the focus of the group's music was Brian Wilson, who combined a fascination with vocal harmony in the Four Freshmen mold with a love of Chuck Berry-derived rock & roll. Added to that was the subject matter of middle-class teenage life in Southern California -- surfing, cars, and girls.
The Beach Boys returned to prominence in the mid-'70s on a wave of nostalgia and a potent concert act that focused on their early hits. Capitol Records had repackaged their catalogue repeatedly, but Endless Summer, a June 1974 double LP compiling their early-'60s work, amazingly topped the charts, becoming their first gold album in seven years. In July 1976, The Beach Boys released 15 Big Ones, their first new studio album in more than three years and their first album in a decade to credit Brian Wilson as producer. The album spawned a Top Ten hit in a cover of Chuck Berry's "Rock and Roll Music," but the group's commercial appeal, at least as far as new recordings, was temporary. Subsequent albums The Beach Boys Love You (April 1977) and M.I.U. Album (September 1978) sold less well. Brian Wilson's "comeback" also proved elusive after 1977.
Especially with the dawn of the CD era, the extensive repackagings of Beach Boys material have continued apace. The year 1993 finally brought a five-CD boxed-set retrospective, Good Vibrations: Thirty Years of The Beach Boys. In 1995, after the resolution of various legal issues, lead singer Mike Love and Brian Wilson began working together again, yet the partnership was quickly derailed due to various tensions, and Wilson began collaborating with Van Dyke Parks and working on a new solo album. The following year, The Beach Boys released a collection of duets with country artists titled Stars and Stripes, Vol. 1, and there were plans for a box set chronicling the Pet Sounds sessions, but the compilation was delayed due to disagreements within The Beach Boys camp.



For booking information CLICK HERE










Speak Easy Entertainment is a full service entertainment company based in Chicago, IL. providing bands, orchestras, and other musical entertainment for weddings and other special events, including corporate and private parties. Featuring "Sway Chicago"- Chicago's hippest high-energy dance band playing a variety of music from Motown, Soul, Disco, Rock, Latin and Big band. "Speak Easy Swing"- Chicago's premier big band. Whether it's 40's big band or 50's Jump blues, Speak Easy can swing it! Covering artists like: Frank Sinatra, Harry Connick Jr., Ella Fitzgerald, Louis Armstrong, Glenn Miller, Count Basie, Duke Ellington, Brian Setzer, etc. "Kimberly Gordon Quartet"- One of Chicago's most sought after female jazz vocalists specializing in torch songs with material from Ella Fitzgerald, Sarah Vaughn, Judy Garland, Billie Holliday, etc. "Skyline Strings"- Providing the most elegant classical music for your ceremony, cocktail hour or dinner.,
Copyright © 2000 Speak Easy Entertainment
All rights reserved.